I came across this old photo of Keith Richards fixing Charlie Watts's hair before going on stage. It's from "The British Are Coming: the Beatles and the Rolling Stones 1964 – 66", on exhibition at the Not Fade Away Gallery in New York. The collection of previously unpublished photographs was taken by Bob Bonis, the bands' U.S. tour manager at the time. If I was in NYC, I would love to see this.
Mick Jagger checking out the recently released Bob Dylan LP Bringing It All Back Home while at the pool in May, 1965.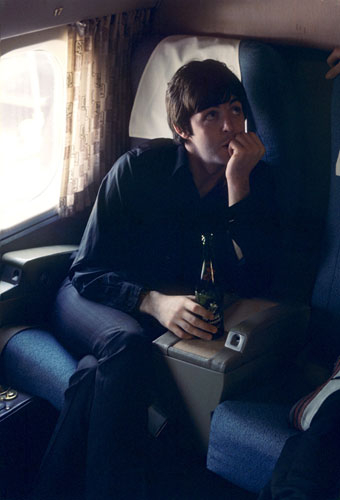 This picture kills me: Paul McCartney flying off to the next gig.
Keith Richards and Brian Jones poolside at the Jack Tar Harrison Hotel in Clearwater, Florida on the day that Keith and Mick wrote (I Can't Get No) Satisfaction.
P.S. This post is dedicated to Darren. Come visit L.A.!
(Image Source: nfagallery.com)