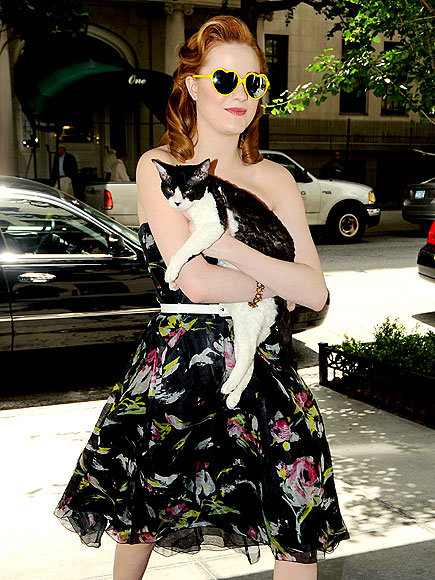 I've spent a lot of time the last few days trying to get my cat Lucy to eat. She's had one upper respiratory infection after another since we moved to L.A., and when she's stuffed up, she has a hard time smelling her food, and therefore a hard time eating. I've tried various medications, wet food and warming up her food. I've tried tuna fish, baby food and nutritional paste. Today, I resorted to putting her in a pillowcase and force-feeding her with a little plunger and some watered down baby food and nutritional paste.
Sigh. It kind of worked. I got some calories in her as least. Maybe now she will remember about food? Please send your healthy (and hungry!) cat vibes my way.
Also, wouldn't it be weird if instead of carrying around tiny dogs as accessory, celebrities opted for full-size cats? I can just imagine Paris Hilton and her Maine Coon.
By the way, this picture is going to give me nightmares.